POLE AND AERIAL CLASSES - EQUIPMENT CLASSES
Want to feel like you're flying? Ever wanted to join Cirque de Soleil? Feel sexy (after first feeling silly?!) Have fun while getting exercise? Be a ninja?! Gain strength, grace, confidence? Feel challenged and addicted all at once?
Please note not all classes are always on the schedule. 
INTRO TO POLE - 3 CLASS COURSE
Want to start your pole journey? Wondering what it's all about? Come get a sneak peak in this course where you will learn proper technique and safety tips along with some basic Pole moves and spins. All fitness levels welcome! This course is required if you are new to Pole and must be taken before starting pole classes on the regular schedule.  Attire: Leggings (first class if you want), but shorts are best!!. NO LOTION or jewelry.
POLE 1, 1.5, 2, 2.5, 3
Once you've taken the Intro To Pole Course it's time to jump into Pole 1!! Keep learning technique and fun moves while building your strength. Attire: Wear comfortable workout clothes. Shorts and bra tops. Knee pads optional.
POLE DANCE / POLE FLOW
Pole Dance: Put on those heels and let's have some fun! Pole Flow: lyrical and a mix of contemporary dance with the pole. Putting together all your hard work from classes and build your coordination skills in learning a choreographed dance routine! Music genres will vary. Attire: Comfortable pole gear, shorts may be required but not always. Heels and knee pads recommended but optional. Heels must be checked by instructor.
POLE SILK * currently not on the schedule
Combining your love for Silk and Pole together!  The silk is attached to the Pole allowing us to fly creatively.  Come learn some cool tricks and moves using this unique aparatus. 
INTRO TO AERIAL ARTS - AERIAL HOOP AND SILKS - 3 CLASS COURSE
Learn proper grips, mounts, poses, holds and spins for this fun Aerial art form. For proper safety and learning, this is a 3 class Beginner Course to build your foundation and required before joining any other Hoop or Silks classes or practice times. Attire: Long leggings that cover past knees. Avoid loose or baggy bottoms. Please wear a semi-fitted to fitted capped-sleeve t-shirt or long sleeved layer to cover arm pits. Please remove jewelry.
AERIAL HOOP/LYRA Levels 1, 1.5, 2, 3
Come and play on the hoop! This class will teach you the basics of aerial hoop, develop strength, flexibility and beautiful lines, with a short choreography. 4-week enrollment course recommended before or while attending these classes. Attire: Leggings and tops with sleeves are recommended.
AERIAL SILK/TISSUE Levels 1, 1.5, 2, 3
Time to fly! This class will teach you the basic of aerial silks, develop strength, flexibility and beautiful lines with a short choreography. 4-week enrollment course recommended before or while taking these classes. Attire: Leggings and tops with sleeves are required.
GROUNDED CLASSES
Want to keep your feet on the ground?!Join some of the industry favorites and our ever popular classes. Each one is unique and perfect for all interests, fitness levels and great in combinations to keep your fitness and exercise balanced.
Ballet Beats: 
A full-body workout experience, to break down the ballet barrier - making ballet accessible to all.  The workout is challenging and provides amazing results but that is just the by-product, not the focus. We love to dance, we find meditation through movement and through the memorization of sequences. We rebel against the "ideal body" and strive to encourage and support each student to be their best self and their strongest self. We have fun, we smile, we laugh and we work really, really hard. 
Grounded:
Part of our Ballet Beats Series.
Mat, mat and more mat. We warm up and then become one with our mats. This series will focus on butt, legs and core. 
Cardio Dance: 
Come sweat and get your cardio in by learning fun choreography to popular songs.
CHAIR DANCE
You'll never look at a chair the same way again! Each class will combine chair tricks and a routine. Sometimes combined with Pole and Floorwork. Attire; Comfortable workout clothes. Heels and knee pads recommended but not required.
FLEXIBILITY/STRETCH IT OUT *currently not on the schedule 
A great class to do all those stretches we never take the time to do! This class focuses on improving your overall flexibility but may target different areas of the body each class. Also helps with range of motion and relieve tension and stress. All levels welcome and encouraged. A must-do in order to take your pole tricks to the next level! Attire: Comfortable workout clothes. Clothes to keep you warm.
 OPEN STUDIO
This studio time allows for extra practice time for you to work on whatever you like! There is no instructor for this class. Pole, Hoop and Silk optional if you have taken or are taking your Beginner course.
AERIAL KIDS AND YOUTH CLASSES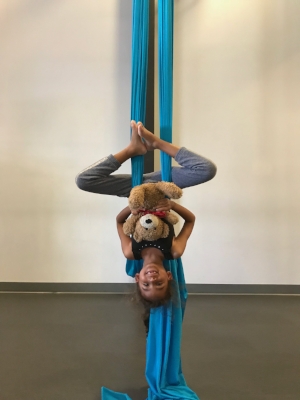 A unique opportunity and experience for kids and youth to explore a fun form of fitness.
Classes include a warm up and conditioning exercises. We then work with the Aerial Silk and/or Hoop learning moves and combinations that help with strength, balance, coordination, focus and control. We end with a stretch followed by cleaning and putting the equipment away!
WEDDING DANCES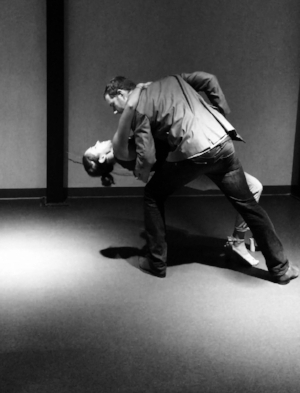 Looking to wow the crowd on your big day? Worried you might have 2 left feet?!? Not sure what to do? Let's take some of the pressure off your first dance and create a simple or more choreographed dance to make sure you are confident hitting that dance floor! Tailored to you and your vision and comfort.
Contact us for more details on private session class packages.
PRIVATE SESSIONS
Want more one on one attention? Perhaps you prefer private settings, are a bit shy, have specific goals, or have a particular Pole trick you want to master. 
Contact us for pricing options.
PRIVATE GROUP SESSIONS
Get a group of friends or family together to have some fun!  
Contact us for pricing options.